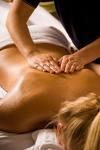 Rehabcorp Physiotherapy offers a massage service allowing us to provide a complete 'well being' experience to our clients.
Denise O'Maonaigh, Rehabcorp Physiotherapy's Massage Therapist has over 20 years of experience within the massage industry between them. She uses a holistic approach to massage therapy, helping our clients to achieve a deeper sense of wellness within themselves.  She is a strong advocate in rehabilitation exercise techniques, such as Pilates and strength training, so you will achieve your treatment and wellness goals quicker, leading to a much improved lifestyle.

Areas of Specialisation:
· Sports Massage:   Pre, post event and rehabilitative therapy.
· Sports Injuries therapy:   For sporting and general daily activity and work related injuries.
· Trigger Point Therapy:   To release isolated muscle tightness that is causing referred pain.
· Myo Fascial Release:   A gentle releasing technique for the connective tissues that encases all muscles.  Excellent for clients that cannot tolerate deeper forms of massage, chronic stiffness and pain sufferers, clients with limited mobility due to muscular and fascial restrictions. For clients of all ages and levels of fitness.
· Pregnancy Massage:   Pre Natal and Post Partum care. A full body massage designed to relax the Mother-to-be and unborn child.  Help relieve emotional physical stress during pregnancy, balance the hormones, and aiding in a more relaxed lead up to child birth and beyond.
· Lymphatic Drainage Massage:   ( Level 1) Excellent for general fluid build up within the tissues after long distance travel and to assist the body when on a detoxification diet.  Can also assist in the healing process of soft tissue injuries, post surgery and bruising.
Benefits of Massage:
Improves range of motion and injuries
Prevents injury
Relieves stress, tension and stiffness
Increases blood and oxygen flow
Releases, soothes and stimulates the nervous system
Re-energises the body.
Contra-Indications:(not suitable for):
Fever
Tumours
Vomiting, nausea and diarrhoea
Bleeding disorders
Heart condition/stroke (doctors approval may be needed)
Deep vein thrombosis
Fractures, infections, soft tissue inflammation and open wounds
WHERE:
Rehabcorp Physiotherapy – 166 Payneham Road, Evandale 5069
 
WHEN:
Monday: 10.00am – 7:00pm
Saturday: 9:00am – 12noon
COST:
1 Hour…………..$78.00
45 minutes……. $62.00
30 minutes……. $52.00
Note: Depending on your level of cover, Massage may be claimable through your Private Health Fund (please contact them directly to confirm).
For more information, contact Rehabcorp Physiotherapy on 8363 2929.