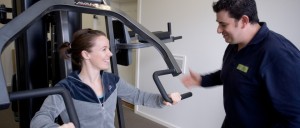 Our physiotherapists can individually design and supervise a physical rehabilitation program at our onsite Rehabilitation Gymnasium.   A combination of free weights, pin-loaded and ball stability exercises are used to manage our clients' injuries/conditions and assist our clients to return to their chosen activities of daily living, sport or work environment.
Programs are individually designed to suit the specific needs of the individual.  We will guide you through the program so you will reach the highest level of physical function that you desire and give you the advice and guidance to maintain your desired level of function.
Gym sessions at Evandale are conducted at our onsite gym under the supervision and guidance of physiotherapist, Frank Tedesco on Tuesday and Thursday from 4:00-5:00pm or by appointment.
Exercise Prescription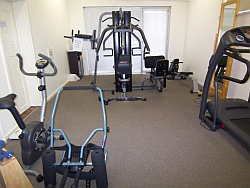 Our physiotherapists are well trained in designing appropriate exercise programs for patients with injury or chronic disease.  A graded exercise program is essential for patients with sports/work injury or chronic disease who need direction in maintaining a healthy lifestyle.  Our clients with chronic disease such as cardiovascular disease, diabetes, hypertension osteoporosis or obesity can be assisted with the management of their condition by an exercise program.
Physiotherapists in our practice take into the pathology of an injury or chronic disease and focus on improving our clients's function in their daily living activities.  We deliver a comprehensive treatment program to encourage our clients to return to long-term physical activity and exercise safely, whilst promoting healing and musculoskeletal conditioning.  We aim to reduce the potential risks of physical activity particularly for those clients with chronic and complex conditions.
Our physiotherapists also take an active role in educating the client about their condition or injury to assist in achieving the best long-term outcomes.  Our clients's programmes are carefully supervised and monitored in our individual or group sessions to ensure that exercises are undertaken correctly, aggravation of injuries or conditions are avoided and exercise goals are achieved.
Other Services
Pregnancy Pre/Post Natal Classes