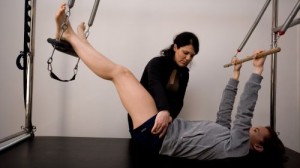 Rehabcorp Physiotherapy uses a holistic assessment and treatment approach, focusing on all aspects of our clients's life to effectively managing their aches, pain or injury. This "Whole of Body" treatment approach involves treating the cause of the problem and not just symptoms.
Our highly qualified staff specialise in posture and biomechanic analysis, musculoskeletal physiotherapy and the pilates method, will identify areas to address to treat the cause of the problem and prevent it from recurring.  Hands-on therapy and acupuncture are used to address joint and muscle dysfunctions and improve postural alignment and biomechanics.  However advocating self-management is an important aspect to all our treatments, therefore exercise therapy is used to re-educate weakened muscles.  We empower our clients with knowledge, exercises and strategies to treat and care for their own condition. This method encourages long-term solutions for our clients' conditions, prevents recurrences and provides the client with the knowledge and skills to keep themselves in a better state of health.
Our goal is to enhance your health, fitness and freedom of movement to assist you in leading a happy, fulfilling life and achieve the goals you want to achieve!
Commit to your health today and make and appointment to see one of our highly skilled team of therapists.