There are a number of Health Professionals out there, which makes it difficult to choose the one that will best suit your needs. Here are some of the benefits of using our services at Rehabcorp Physiotherapy: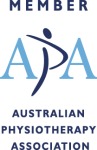 Our Treatment Approach…
We endeavour to promote a holistic approach to the diagnosis, therapeutic treatment and prevention of human movement dysfunctions, and aim for standards of excellence in all aspects of physiotherapy.
Our treatments are primarily "hands-on" so your contact time with the physiotherapist is 30 minutes.
We aim to provide a long-term solution to your problem, by providing advice on prevention and self-management of your problem. We don't believe in "quick fixes" or "temporary relief".
Value-Added Services…
Convenience of extended opening hours – late nights & saturday mornings!
Convenience of on-the spot health refunds, with our Hicaps facility.
Our physiotherapists are preferred providers with BUPA health fund (at our Evandale Clinic only), and therefore you attain a higher rebate through this health fund when you see a physio at Evandale.
No Doctor's referral is required.
Convenient on-site parking.
A tranquil therapeutic environment.
Our physiotherapists are Members of the Australian Physiotherapy Association, which means we practice in accordance with the APA Code of Conduct.
Our Personal Approach…
As our client, you can expect a high professional standard of service and commitment. We constantly strive to utilisde current knowledge, as we are continually undertaking professional development courses, conferences and seminars.
We take the time to listen to you and understand you, assess your movement and provide you with a clear and informative explanation of your problem and the recommended treatment, in language you can understand. We will involve you in a treatment plan that suits your needs and lifestyle.
Our focus is on YOU, the PERSON. We are always prepared to do our utmost cater for our clients' special needs.
Make an appointment today to experience all this for yourself and rid yourself of aches, pain and injury!