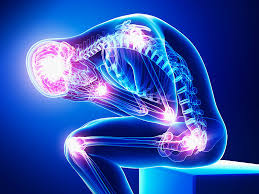 What we don't talk about…
We are told that aches and pains are a part of getting older. But chronic pain is rarely mentioned and can affect any age group. Although there is much more acceptance and awareness now of mental illness and other conditions like sexual dysfunction, incontinence and even strangely shaped body parts, with the program Embarassing Bodies. However what you can't see is often not acknowledged, which is part of the reason why chronic pain remains the great unmentionable.
Chronic physical pain, defined as any pain lasting for more than twelve weeks, is rarely up for discussion in any detail, meaning for chronic pain sufferers, quite often, Chronic Pain is hidden. There is fear of talking about it or using it as a reason to not participate. Truth goes out the window if you need to excuse yourself from something because of chronic pain.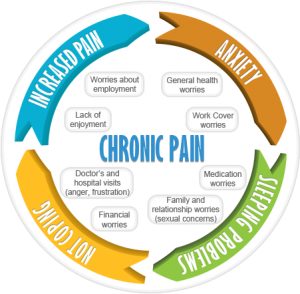 But Chronic pain can weigh heavily on a person emotionally, causing anxiety, depression, anger, and stress. Individuals who suffer from chronic pain are in a relentless cycle from which it is difficult to emerge from.
This cycle can result in physical de-conditioning, weight gain, reduced function, disability, withdrawal from activities and not coping with usual activities of daily living.
Fortunately, there are treatment options for sufferers of chronic pain, and surprisingly, many of these options are more holistic and proactive than traditional medicinal remedies. The goal is to uncover and address the source of the problem versus simply masking it with medication It's important that the underlying cause of the pain is correctly identified so that the proper course of treatment can be prescribed.
Exercise and Stretching are two important proactive treatment options for Chronic Pain. This is the basis for us constructing Adelaide's Healthy Spine Program. Knowing what exercises to do, how to do them and how to progress them without aggravating your pain is crucial to your rehabilitation from Chronic Pain and returning to the activities of daily living you enjoy. Call Rehabcorp Physiotherapy to make an appointment with one of our physiotherapists now about breaking your pain cycle with a formalised "Healthy Spine Program".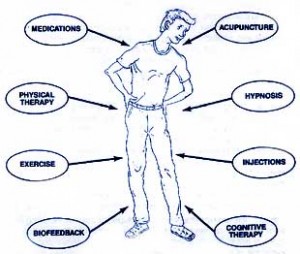 Here are a few areas to explore if you, or someone you know, is suffering from chronic pain:
Anti-inflammatory plants and herbs – turmeric (we sell two brands of Tumeric Tablets at Rehabcorp Physiotherapy), green tea, ginger, rosemary and willow bark.
Fish oil– Liquid is of preference for a high dose of omega-3's, available at Rehabcorp.
Vitamin D (Bioceuticals D3 drops are very effective from Rehabcorp)
Magnesium – great for relieving muscle tension, cramps or pain in powder, tablet or cream form.
Meditation and Mindfulness
Spinal Mobilisation/Re-Alignment & Manipulation – through Physiotherapy treatment.
Massage – Jane & Allyson at Rehabcorp offer a range of techniques and treatment times.
It would be a wonderful thing if Chronic Pain was discussed, acknowledged and understood more as it is mucking up useful lives, and not just older ones either. Some clients even feel uncomfortable or "bad" about talking about it with their physiotherapist. I have had this comment many times…"Sorry to burden you with this!" or "I feel like I'm just complaining!" However talking with your physiotherapist is the best place to start as we understand Chronic Pain and will be able to steer you in the right direction. We are specialists in pain management, exercise therapy, activity modification and recommendations for supports and braces. Speak with us first and open up the conversation and acceptance of Chronic Pain.