Rehabcorp Physiotherapy is pleased to offer a pregnancy massage service to our clients
allowing us to provide a complete 'well being' experience for mother and baby.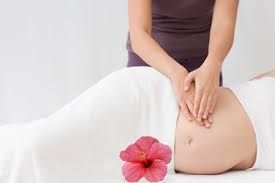 PRE & POST NATAL MASSAGES:
To maximize clients comfort all massages are performed in a side-lying position, except for the first trimester where prone-lying is acceptable. The client will be supported at the feet, hips, shoulders and a special pregnancy pillow to support the abdominal region.
A full body, natural therapy treatment to support and nurture mums' and mums'-to-be for the relief of:
Back, shoulder and neck pain and all joint pain associated with pregnancy – before and after.
Reduces anxiety and increases a sense of relaxation.
Improves sleep patterns.
Stabilises hormonal changes and aids in blood pressure.
Reduces Oedema.
Instils a sense of connection with your unborn child.
Heightens self and proprioceptive awareness of your body as it changes.
Contra-Indications: (not suitable for):
Pre-eclampsia and Eclampsia.
Bloody discharge and vaginal bleeding.
Bladder infections.
Gestational diabetes.
Nausea (excessive vomiting), fluid/electrolyte loss and weight-loss.
Pregnancies that are deemed 'high-risk' can be considered for massage, and will be discussed in confidence at the time of your initial consultation. Your permission will be required for Jane to contact your Prenatal Care Provider for approval.
WHERE: Rehabcorp Physiotherapy – 166 Payneham Road, Evandale 5069
WHEN:
Monday: 10:00am – 7:00pm
Saturday: 9:00am – 12noon
COST:
Initial consultation – 90 minutes……… $100.00
Subsequent visits – 75 Minutes…………$90.00
For more information, contact Rehabcorp Physiotherapy on 8363 2929.
Note: Depending on your level of cover, Massage may be claimable through your Private Health Fund (please contact them directly).